ESSAYS FROM THE EPICENTER OF SOCIAL CHANGE
When you find yourself smack in the middle of seminal social changes, what do you do? I wrote about them. I bore witness, participated and documented my experiences and observations about living in the epicenter of cultural revolutions. When times were a changin', here's my take.
1. THE L.A. RIOTS
June, 2020– The more things change, the more they stay the same. Twenty-eight years after the L.A. riots, history has repeated a scene caught on tape: police cruelty of a black man. Back then the riot was confined to a section of the city, no protest marches. Today, diverse protest marches reach around the globe. Maybe this time the world outpouring will result in equal justice under the law for real. It didn't happen in 1992. Here's how the aftermath went down then, a reflection.
[photo: LA burning]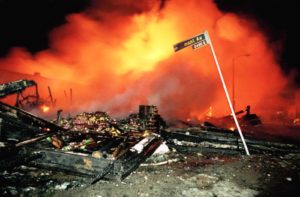 WHAT DID YOU DO IN THE RIOTS?




The Rodney King Verdict
by Karen Lustgarten
8/19/92, Los Angeles–All across town, markets are running out of food. Tempers are short as lines grow long. It's a two-hour wait at any check-out stand. There's panic at the pump–an hour's wait to fill up. Lines are longer at the ATM machines. Public transportation has been halted. The post office suspended mail delivery. Crowds are forming around the downtown post office; people need their welfare and pay checks now. Sirens are screaming down city streets and helicopters are buzzing overhead. All businesses are closed. Everyone is admonished to stay indoors.
The inner city hit by vandalism is without electricity and phone service. Mom-and-pop businesses have been ransacked and torched to the ground in the mayhem. A thousand fires were set by evening, 30 are raging out of control. Exhausted fire crews can't get to them all. Merchants on the margin, many Korean, are losing their businesses and lifeblood.
This is the third day of rage and rampage since the "not guilty" verdict was handed down in the Rodney King beating trial. The rioting isn't subsiding despite dusk-to-dawn/dawn-to-dusk curfews and arrests. Six gang members caught today admitted their goal was to ignite 10 Molotov cocktail fires per hour. They succeeded. Four black thugs were caught on tape dragging an innocent white truck driver out of his vehicle and beating him in the street to an inch of his life. More tension is building as the troops move in. News crews are working around the clock broadcasting live pictures of the violence, destruction and grieving.
Where am I while Rome is burning? In my Marina del Rey apartment on the beach, far from the madding crowd. Fiddling, actually. It's a glorious day at the Pacific shore. I take my morning constitution with a neighbor along the eerily empty beach. But it doesn't feel good. I want to do something constructive. Guess I'll do laundry. It's a double load, I separate whites from colors. Yesterday's perm looks too curly and I consider washing the $100 curl job down the drain. Waves crashing on the shore are the only sound outside.
The news broadcast pictures of actor Edward James Olmos at the scene. He's picked up a broom and started sweeping broken glass and debris off a sidewalk so people could pass by. He told a reporter that cleaning up is the only constructive act he can think of doing and he'll sweep till he drops or cleans the sidewalks. Residents come out with brooms and follow suit. Within a few hours, a broom brigade forms and is sweeping behind the new inner city pied piper. It grows larger as suburbanites watch the news and decide to drive to South Central L.A. in car loads with their clean-up tools.
My ex-husband, Ivan, feels restless, too. He announces he's going to the area with his broom after he jumps into the shower. I call my friend Veronica who wants to join us as soon as she jumps into the shower. I decide to wash out my perm, so I jump into the shower and apply conditioner then blow-dry. I can't help wondering why everyone needs a shower to clean up broken glass and charred remains of smoldering buildings after a riot.
Now what exactly does one wear to an aftermath? Well, one should probably avoid clashing gang colors, your primary reds and blues. I select a pair of faded jeans, worn-out Nike tennis shoes and a black-and-white "Eddy Murphy Presents a Tribute to Richard Pryor" T-shirt with Pryor's picture on it (from the fundraiser). My baseball cap is a matching black-and-white "Human Rights Now/Amnesty International" from that fundraiser. I strap on a matching black-and-white Women in Film fanny pack containing tissues and #30 sun block (protection).
The gold jewelry comes off and I accessorize with dark sunglasses and yellow latex gloves for a touch of color (and protection). With broom and dust pan in hand, the working woman who doesn't ever do windows is ready to join a city-wide clean-up crew.
Traffic thickens as we drive in slow motion past miles of property devastation. Closer to the battleground we pass eerily quietly-smoldering stores and burned telephone wire hanging limply from their poles. All the traffic lights are out. Ad hoc traffic cops in jeans and white gloves take initiative to guide motorists through intersections with creative hand-jive signals. It's a surreal scene. I was raised in L.A. and never drove through South Central. Now here we are, white minorities cruising streets far from our Westside "hood" breathing arson air.
Ivan stops an African-American man for directions to the First AME Church, the relief center. He's headed that way, too, so we offer him a ride. You know this would never happen under "normal" circumstances. But on this day, whites are an invading army of helpers and camaraderie in the community is high. Our passenger is homeless, it turns out, and slept at the church last night. When he awoke, he was so thrilled to see Eddie Olmos, Arsenio Hall, Ted Koppel, other celebrities and news crews that he got everyone's autograph. That's his coveted souvenir from the riots.
By the time we arrived, many sidewalks were spotlessly clean, glass and rubble swept neatly in piles off public property. An army of crews had been polishing streets at lightening speed. We hooked up with a crew of some 60 volunteers of every age, color, gender and district diligently dismantling massive amounts of rubble from a torched mini market on Van Ness and Florence Avenues. More help came until we were 100 strong–strangers pulling together like worker ants attacking leftover picnic garbage–pushing back the carcass of fallen burnt metal and concrete slabs away from the street and sidewalk.
Someone had a wrench and loosened bolted sheets of protruding metal. Someone with a hammer hacked hunks of the stuff into smaller pieces to be carted off by other groups. Someone called out "Muscle!" or "Legs!" to help shove huge, beamed sections away from the street. A dozen guys appeared and pushed in unison.
Ivan, the TV executive, "produced" one of the more complicated dismantlings. He also team-pushed and carried slabs. The women mostly swept. I swept smaller debris into a mound and someone appeared with a huge dust pan to scoop it up. Children riding in the back of a pick-up distributed more brooms and masks to protect against toxic fumes (I didn't think of that.). Another truck followed with donated cold beverages.
An esprit de corps developed among disparate people–locals and outsiders–all perspiring together to help a community clean itself up, literally and figuratively. After just an hour, that site was contained with the street all cleaned up and safe for passage.
Our crew had bonded during the experience. We parted with hugs and high-fives and moved on to another site. No names were exchanged. The first constructive step toward healing and rebuilding a riot-torn city came from teamwork among thousands of volunteers from a rainbow of neighborhoods.
Heading back to the beach all grimy and sore, I stopped on trendy Main Street in the Marina to buy gourmet olive rye and nut bread, apricot BBQ ribs, assorted grilled veggies and amaretto chocolate cheesecake for dessert. No lines in this Yuppie "hood." Ivan went home to shower; Veronica headed to her facial and make-up appointment.
While the three of us feasted on BBQ dinner from my deck overlooking the Pacific Ocean, victims of the violence from Koreatown to Crenshaw Blvd. didn't have a single standing market left. They can't get gas to drive to a market. I wondered if they care about clean streets. Would they have preferred some other kind of help? Nobody asked that question today, we just took action to clean up. I vowed to help with the food drive tomorrow.
Postscript: 6/17/12, Father's Day: Rodney King died today. He drowned in his pool. I wonder how South Central L.A. will honor him.
(c) Karen Lustgarten, 1992