08 Aug

Original Video Series Award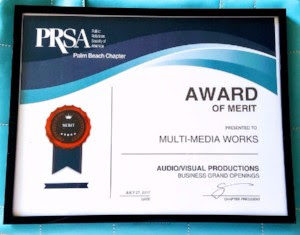 photo: Award
video  pr  print  social
News Release
MULTI-MEDIA WORKS
WINS AWARD FOR ORIGINAL VIDEO SERIES
CREATED FOR BOCA CHAMBER OF COMMERCE
July 27, 2017, Palm Beach County—Multi-Media Works, Inc. received the Award of Merit from the Public Relations Society of America (PRSA)/Palm Beach Chapter for an original series of 30 mobile videos produced for the Boca Raton Chamber of Commerce. The video concept was created by company President Karen Lustgarten last year in partnership with the Boca Chamber to be used as a PR/marketing perk for a limited number of new Chamber members monthly. The award was presented at the PRSA annual awards luncheon with entries submitted from PR professionals throughout the Palm Beaches.The video series entitled "Business Grand Openings/Ribbon Cuttings" ranges from 1:45 to 3:00 minutes each in length. They have consistently received accolades from both new members and Chamber staff.  "The sales department of the Boca Chamber is so proud to offer these videos to members as another way of saying thanks for joining and congratulations on your grand opening," said Alison Miuccio, Boca Chamber's Sales & Member Relations Manager.  "Karen is an absolute delight to work with and is one of the most professional people I know. Her turnaround time is fast and the quality is perfect! These videos are such a great tool for us to use in selling and we couldn't do it without her."
"It has been my pleasure to produce these videos for the both the Chamber and its members: recording important business or nonprofit milestones and producing a video memento of each event," said Karen Lustgarten.
The award-winning video series can be viewed on two YouTube channels:  Multi-Media Works channel and Boca Chamber's channel.
A Boca Chamber Trustee member, Multi-Media Works is a multiple award-winning company in Delray Beach that discovers and exposes businesses and nonprofits in the media (only the remarkable parts) in video, PR, print and social media.  For more information, visit www.multi-mediaworks.com.
Copyright © 2017 Multi Media Works, All rights reserved.