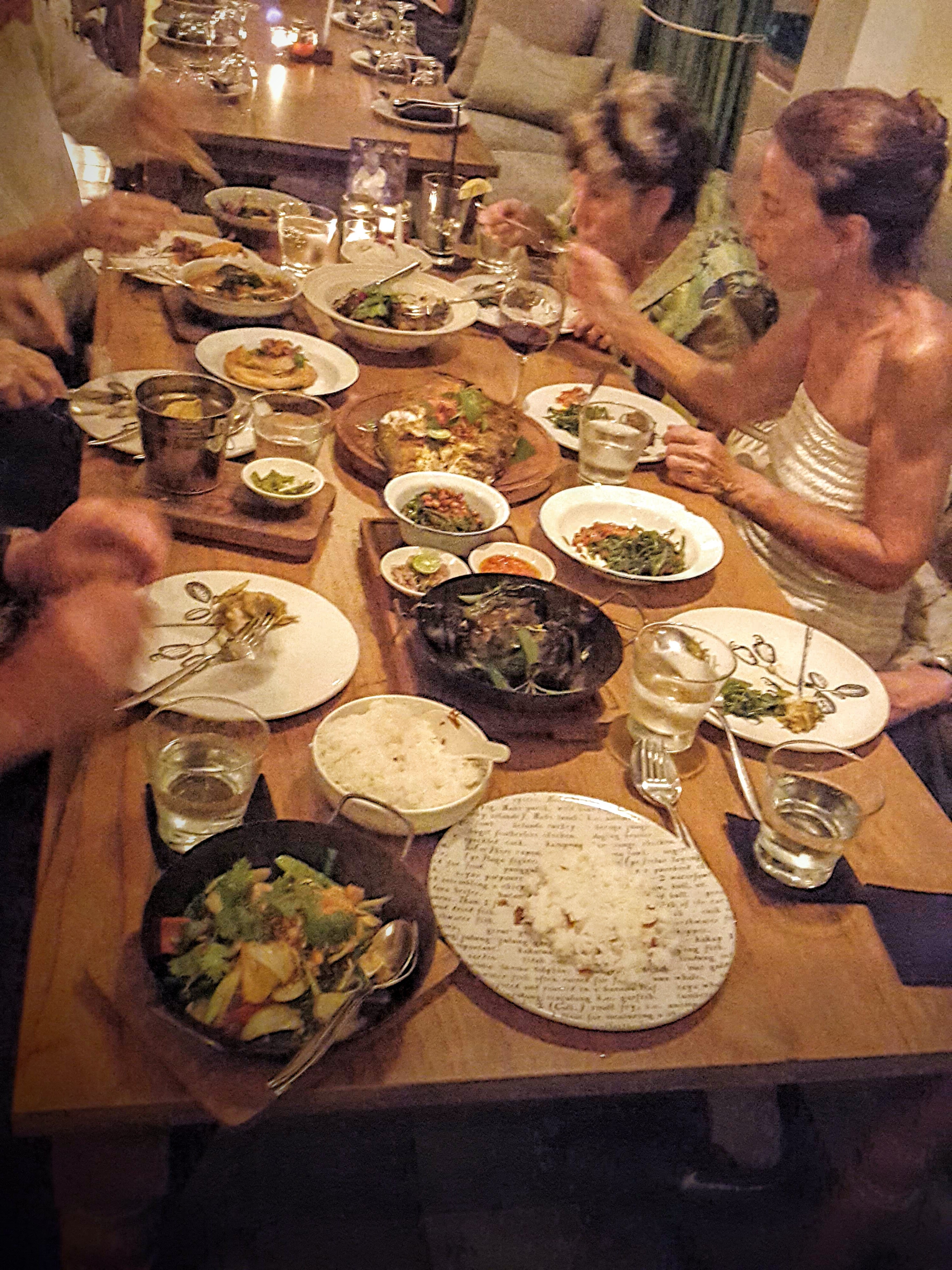 20 Apr

Bali Blog #9: Restaurants & Markets

Feb/March 2016…

Restaurants in Bali serve delicious food at inexpensive prices ($6 can buy a full meal) in lush settings with excellent service, and they include WiFi. The most expensive, trendy restaurant I experienced was with Nadya and friends was Hujan in downtown Ubud with its fascinating gourmet menu that went on for pages sensitive to every dietary need. You can see how many tasty dishes were ordered yet the bill averaged just $28 per person.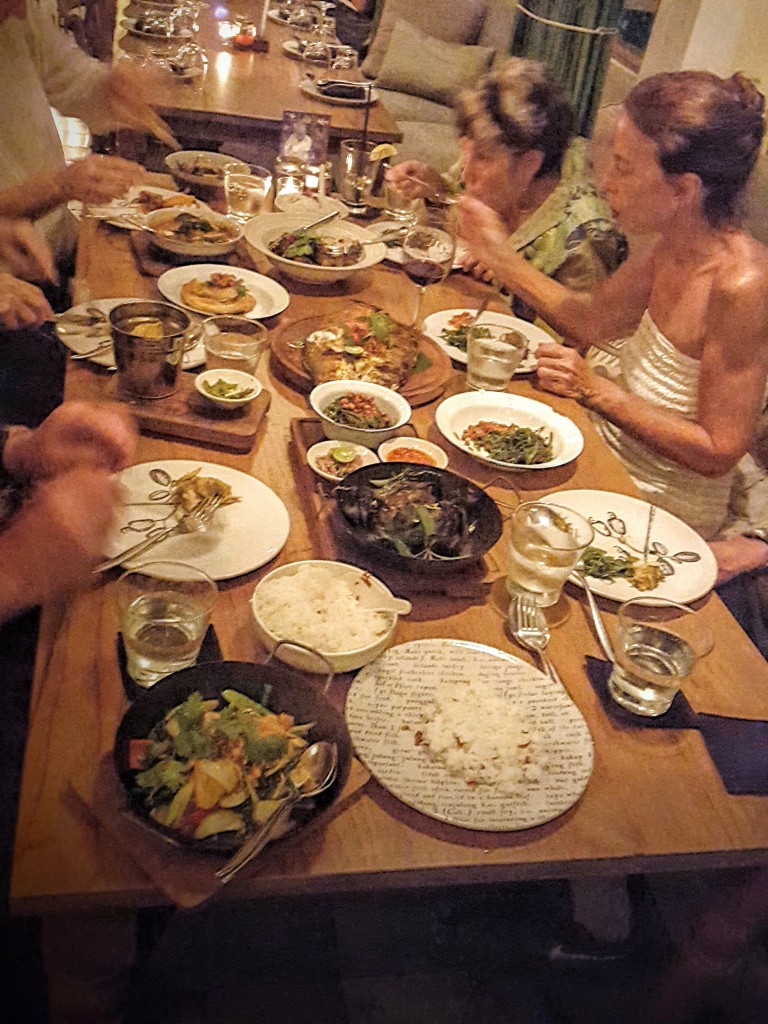 Another Nadya favorite is, La Lucciola at Petitenget Beach in Seminyak. More wonderful restaurants included Bale Undang, where Ani and I enjoyed a gourmet lunch in a traditional-themed, beautiful Balinese ambience for $12 per person (see album).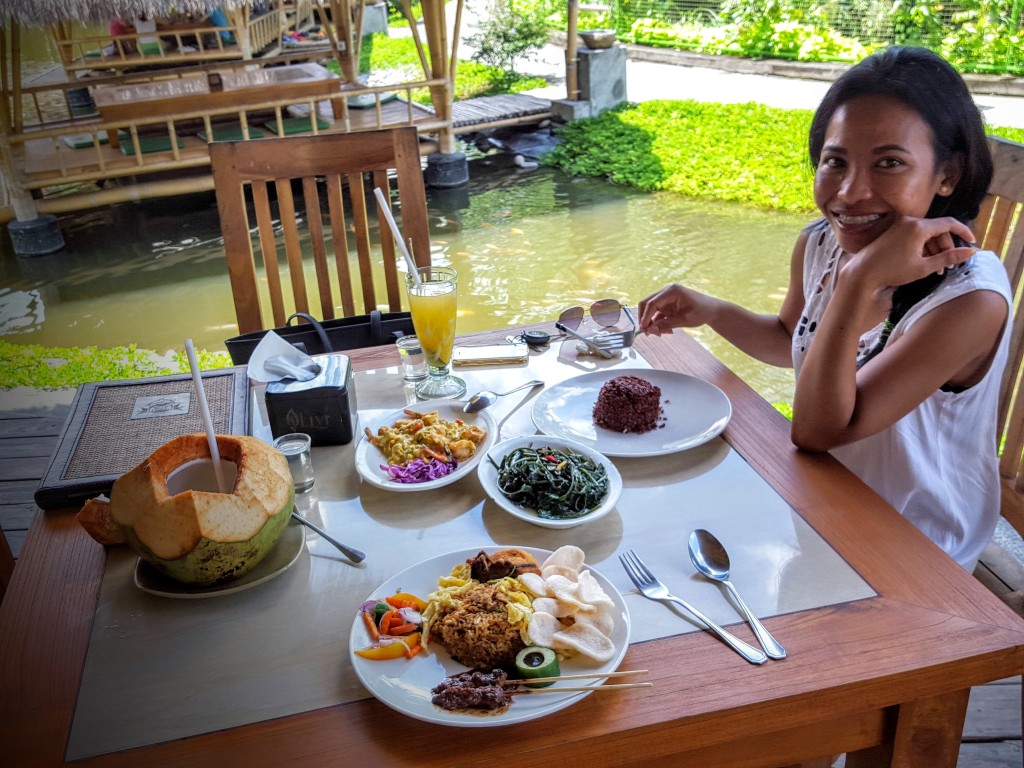 Griya in downtown Ubud is a lovely, restful, scenic stop for lunch and sipping refreshing coconut water through a straw then scooping out the meat.
The gorgeous Arma restaurant at the Arma Resort and Museum was a stunning treat with Robert and Ani. We sat on red cushions in a lush tropical park setting with a tempting menu.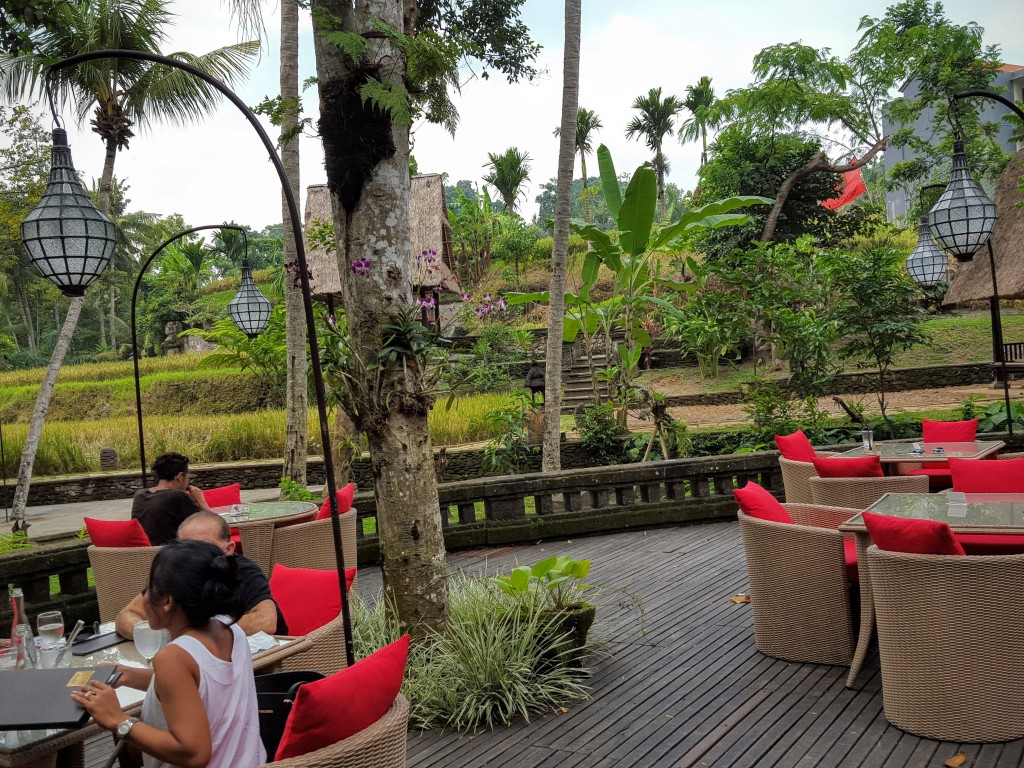 Here I experienced my all time favorite dessert that the chef created on the spot for the first time as an experiment. Served in a cocktail glass, the tentative name is nyuh es ketan (something like that). The ingredients are: sticky rice, coconut milk, seaweed jelly, fresh jack fruit, red bean and homemade coconut ice cream. Every bite was an exotic, sensational surprise! I hope that dessert is permanent on the menu. If only I could duplicate it!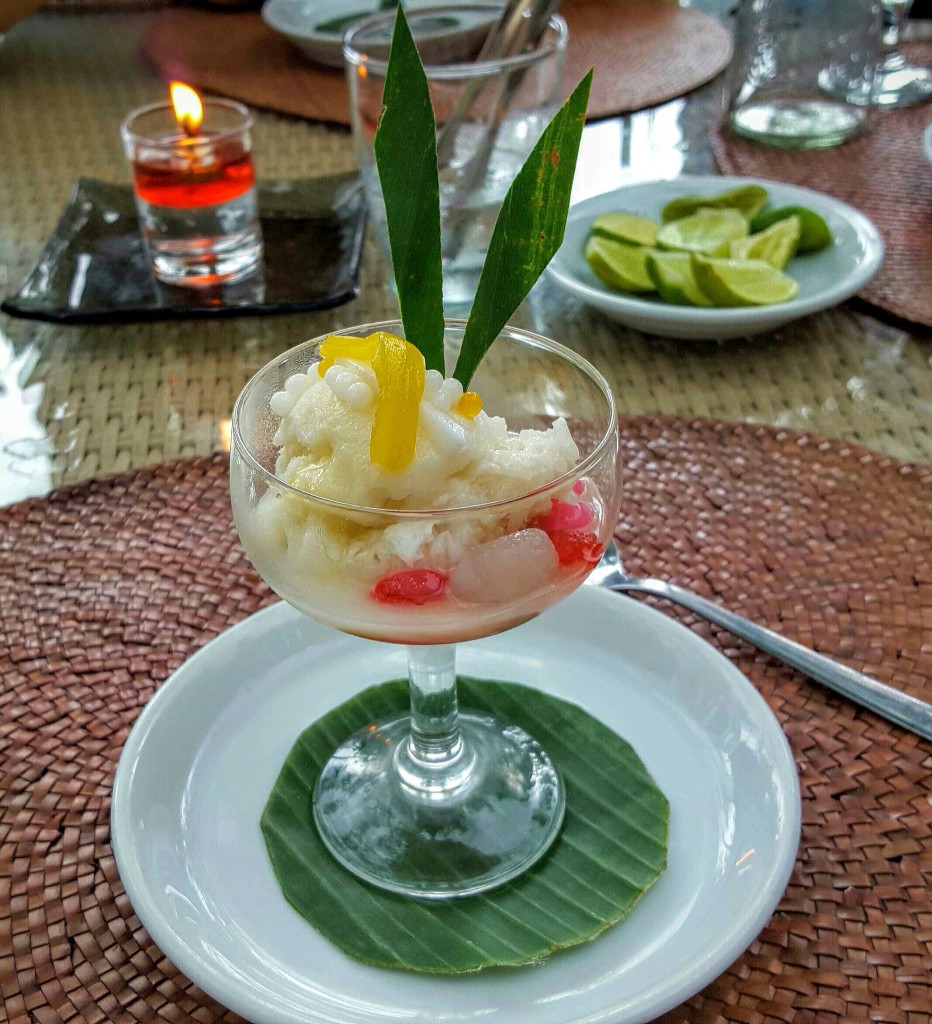 A few doors from Robert & Ani's house is the newly opened Bird's Nest restaurant–excellent Thai home cooking by the sweetest Thai woman with her Balinese husband helping. They met and married while working on a cruise ship. When he discovered she can cook, he suggested quitting their jobs and opening a restaurant in Ubud. It's exhausting, she said, raising two small children and running a cozy eatery that serves about 12, especially when your commute is more than an hour by motor bike in rain and heat, and you have no staff (yet)!
At Bird's Nest, Ani ordered their signature green blended smoothie that tasted too delicious to be healthy, yet it is.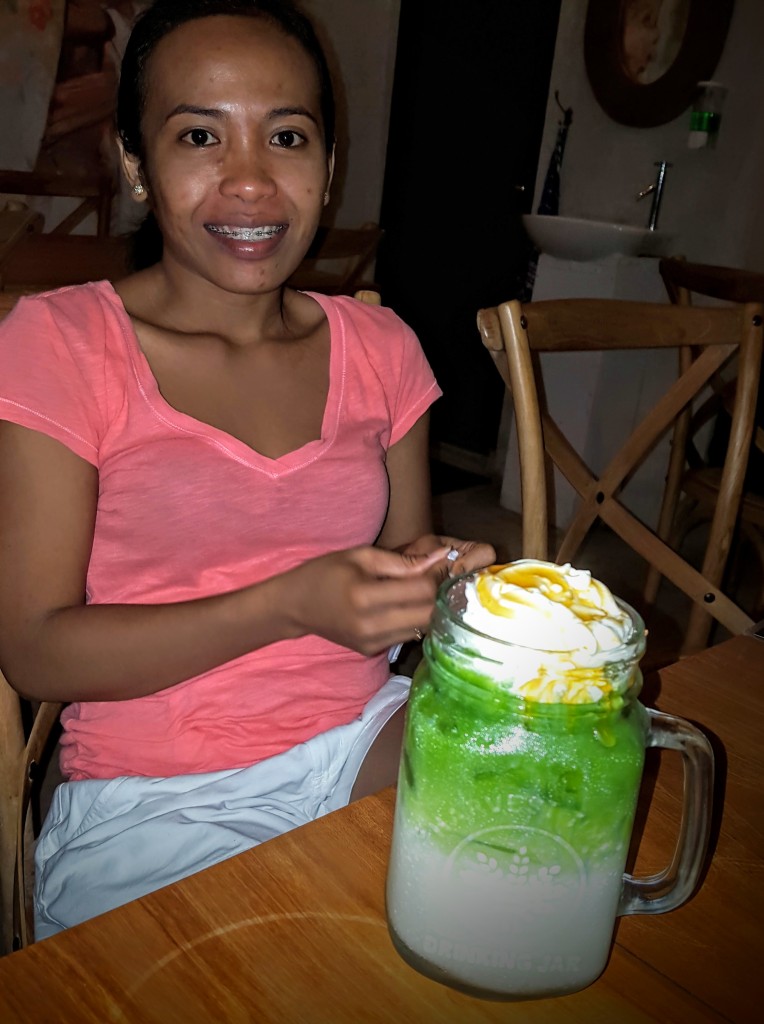 The peasant tasting lunch at Danu Art Cafe at Lakeview Eco Lodge in Mt. Batur offered an exquisite introduction to the art and flavors of Balinese cooking with local ingredients and creative combinations. (more in Bali Blog #2)
On the drive back to Ubud from the village of Aseman, we stopped for lunch at Dijon, one of Robert & Ani's favorite French-Asian fusion restaurants with an adjacent gourmet French market.
One more stop on the way home was to grocery shop and show me the most awesome megamarket called Carrefour at Kuta Plaza. Not only a monster food market with an endless, freshly prepared international food section that dwarfs Whole Foods, but the clean store is an upscale Wal-Mart with an even greater variety of better quality merchandise. I could have moved in there; it has everything.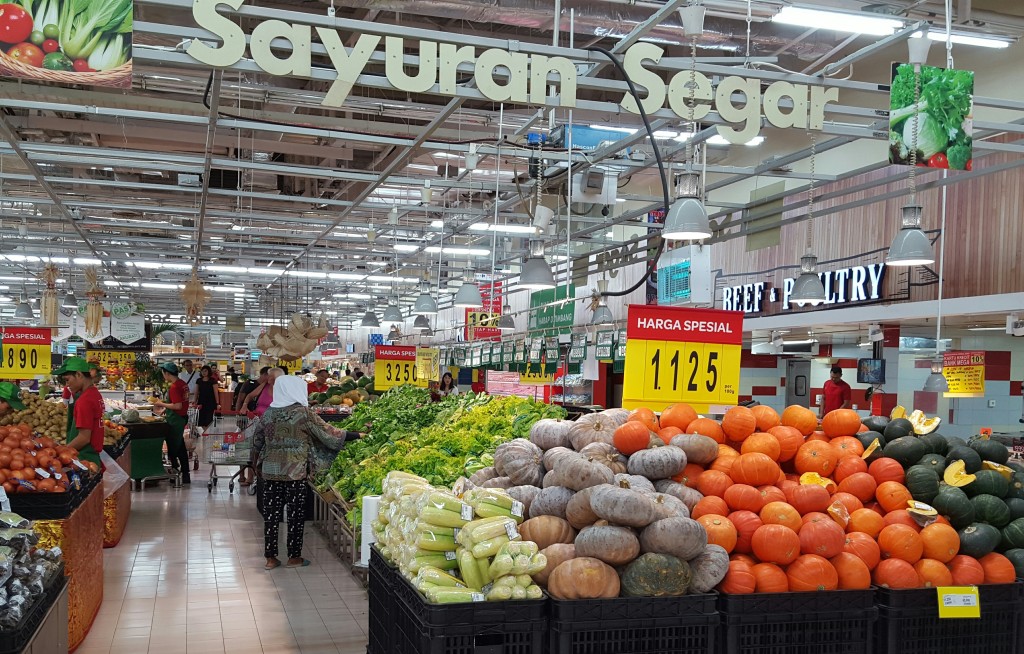 In downtown Ubud, I loved Ani's morning stop at Bali Buda Bakery, where loaves of creative healthy bread are baked on the premises. It was tough deciding on a few varieties to go with the breakfast she prepared after teaching her Zumba class at Ubud Fitness Center.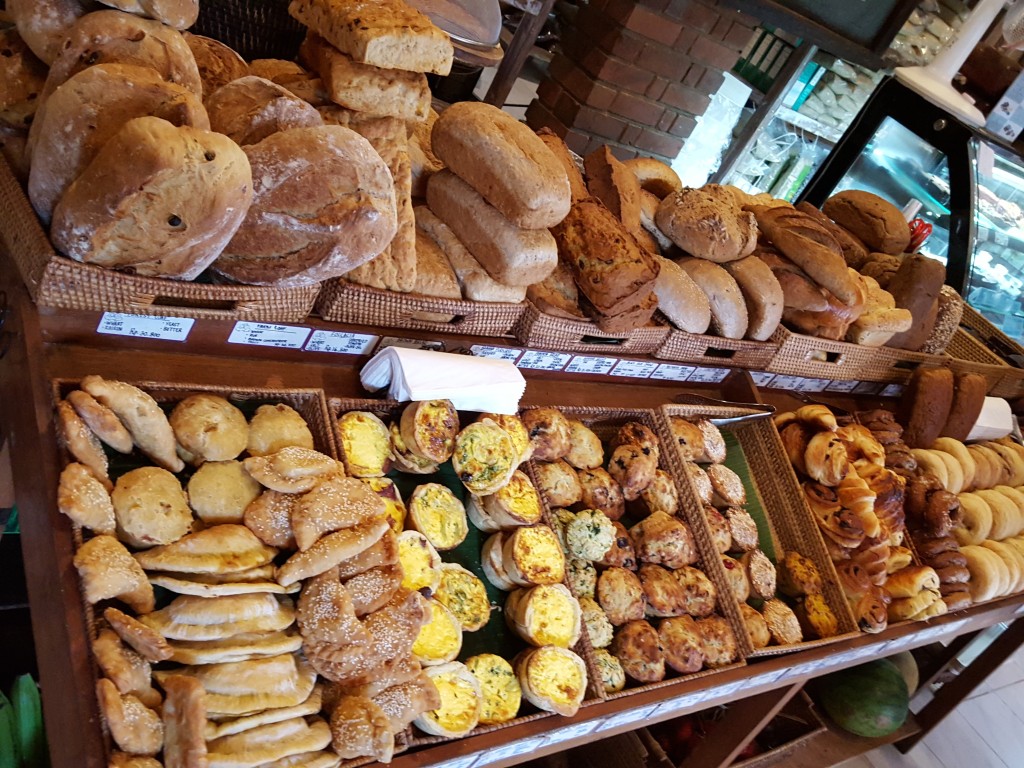 Although my delicate stomach requires vigilance when eating overseas –I did have one attack of food poisoning–nonetheless beautiful, inexpensive restaurants and markets with such flavorful foods are irresistible in Bali.
CLICK HERE TO SEE THE BALI RESTAURANTS & MARKETS ALBUM

by Karen Lustgarten, Multi-Media Works
Photos: © 2016 Karen Lustgarten