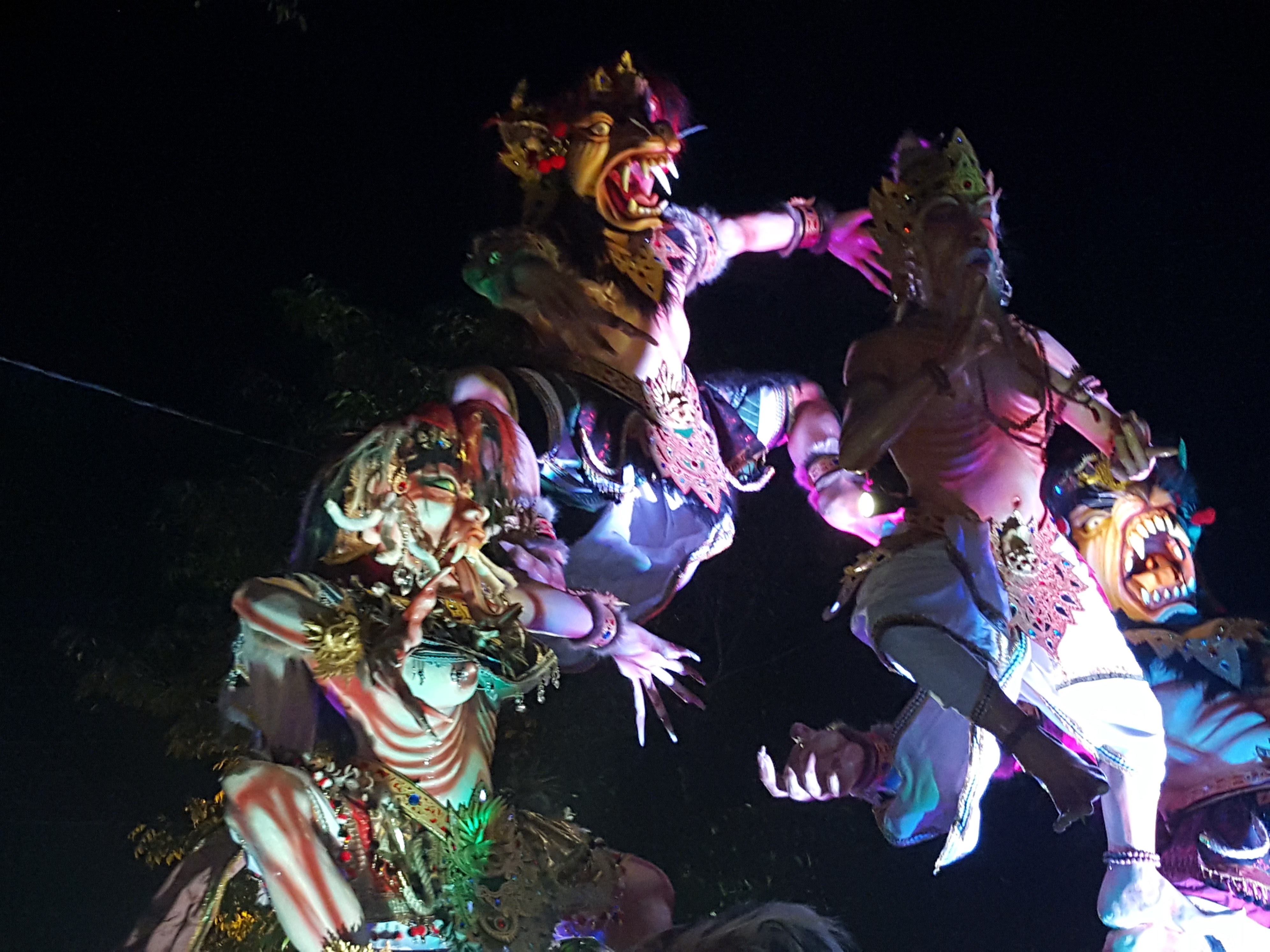 12 Apr

BALI BLOG # 6: Ogoh-Ogoh Festival & Parade

March 8, 2016 Seseh, Bali…

The arrival of Spring is the time of year when "spring cleaning" includes purifying the island of spiritual pollutants emitted from humans –the malicious nature or negative karma and characteristics of living beings (mainly humans). Evil spirits, created by villages in the form of ogoh-ogoh (pron. ooga-ooga), are ceremoniously chased off the island the night before Nyepi (Silent) Day.

Ogoh-ogoh are the towering, handmade, fantasmagorical statutes representing evil monsters.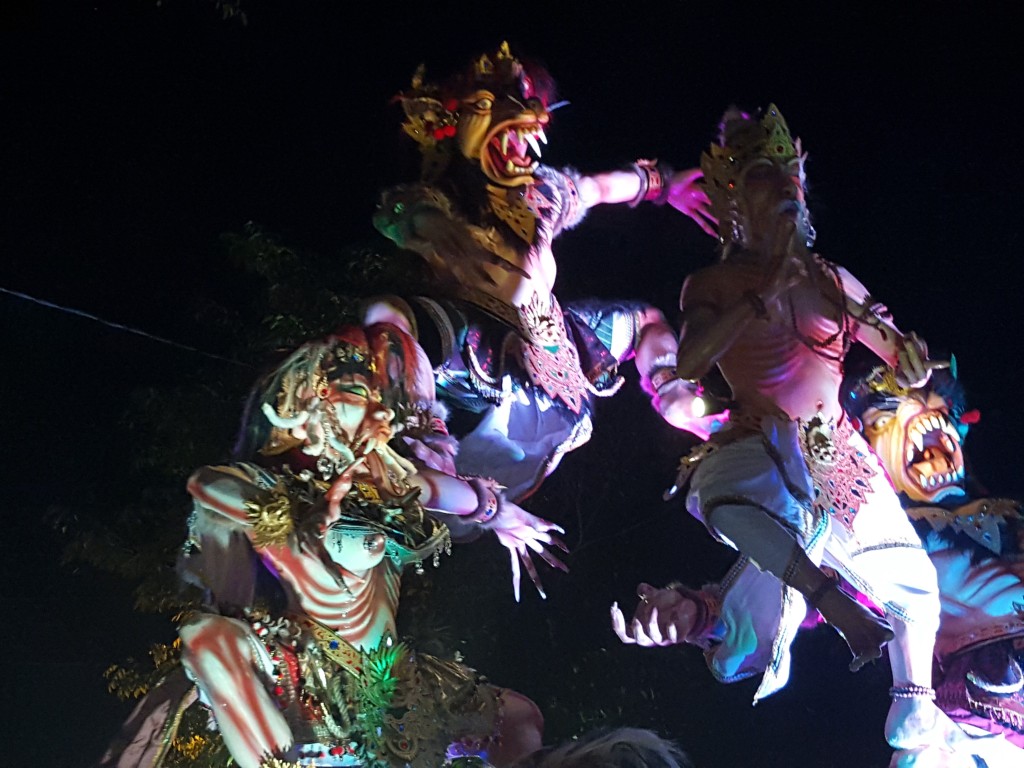 With adult guidance, the children and youth organizations in each village create an ogoh-ogoh to be ceremoniously paraded down a main intersection on bamboo platforms held up by eight or more men. Created from Styrofoam or paper Mache and other materials, ogoh-ogoh are so tall that two men with long poles must accompany the statues on either side just to raise the electrical wiring hanging above the streets so the ogoh-ogoh can pass under without setting a fire!
The parade ends at a community park where the floats are voted on for prizes, but not burned as in the past. Instead they are displayed in the village for awhile or sold. Rumor has it that filmmaker James Cameron attended an ogoh-ogoh parade and wound up buying many of them for later use or inspiration in his Avatar movies.
In the raw video I shot (with a cell phone) you'll see how villages outdo each other spending weeks creating the most demonic- looking ogoh-ogoh. They are shaken and stirred during the parade to symbolically bewilder or drive crazy evil spirits on the island so they go away and cease harming humans.
All over Bali, families participate by turning out in huge crowds lining a local ogoh-ogoh parade route to view the colorful spectacle. As the procession of statues pass by, everyone makes noise to drive the evil spirits far away from the island.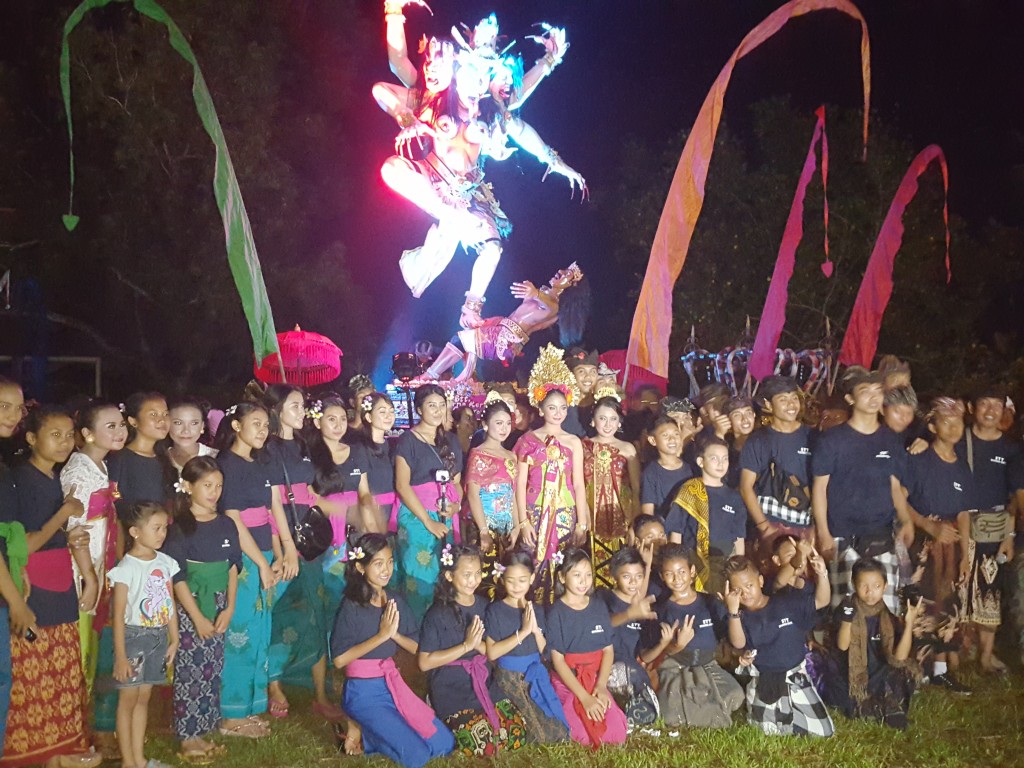 Parade participants from each village dress in traditional Balinese attire. Eight or nine local villages in the Mungu region were represented at the ogoh–ogoh parade I attended with Nadya in Mungu near her beach house.
Each village is represented and organized in formation, beginning with children holding torches, followed by pretty young women holding up an elaborate banner with the village name. They are followed by a marching band of villagers playing traditional Balinese instruments, then the ogoh-ogoh creation mounted on a bamboo platform carried by men from the village. The crowd hoots and hollers as each colorful and menacing monster float passes by.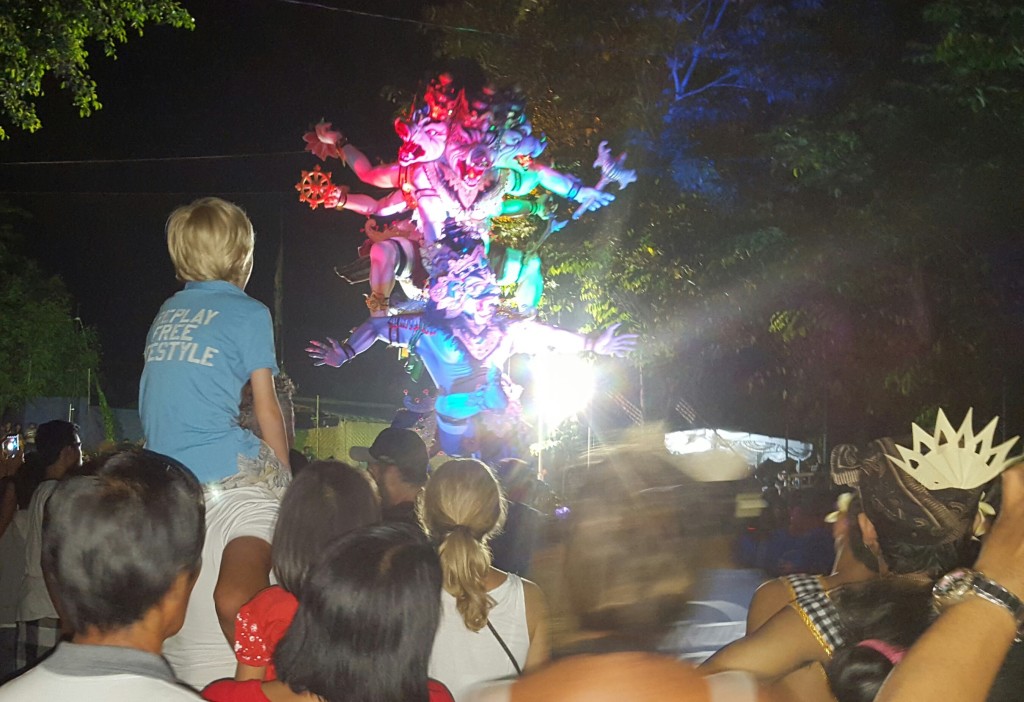 I couldn't help recalling the early Rose Bowl days only that was, and still is, a highly commercial event; Hari Raya Nyepi is a Hindu spiritual one with villagers crafting their own ogoh-ogoh floats themselves.
By Karen Lustgarten Multi-Media Works
Photos: © 2016 Karen Lustgarten