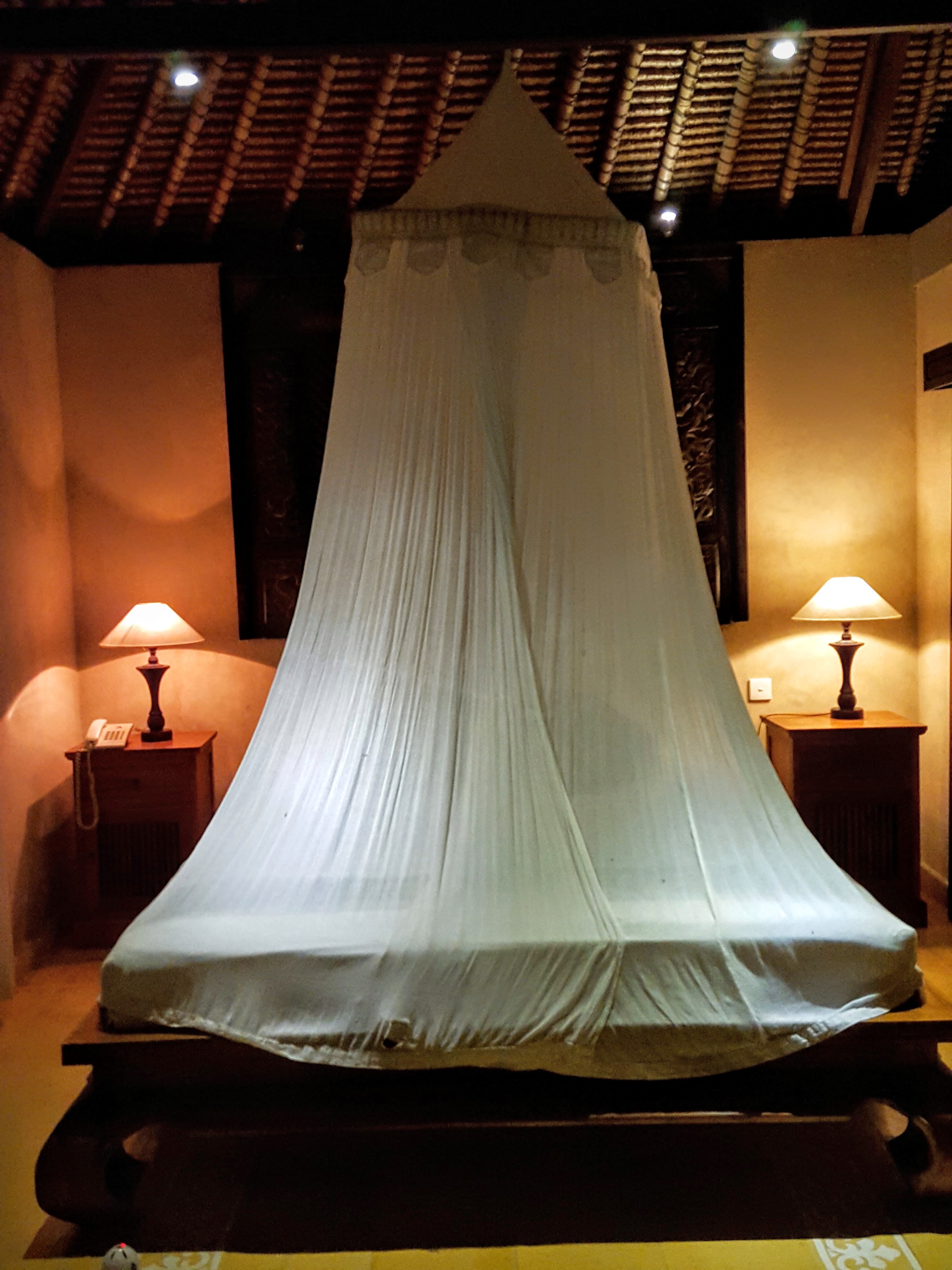 30 Mar

BALI BLOG #1: First Night

Feb. 27, 2016 Ubud, Bali

…

It was a dark and stormy night. Nadya's Balinese driver dropped me off at Villa Beji Indah after an hour and a half ride from the Denpasar airport following a 41-hour journey half way around the world from Florida—22 hours in the air plus two long layovers.

Prepared for my arrival, a young man with a welcoming smile greeted me at the villa entrance with a glass of refreshing watermelon juice garnished with a slice of lime. Barefoot in the rain, he escorted me down rock stairs along a jungle path holding an umbrella over my head with one hand and a flashlight in the other, guiding the way past thick foliage to my thatched roof bungalow. Another young man carried my luggage.

The spacious room with wood floors, an exaggerated high-pitched ceiling and soft lighting cast a romantic glow on a tent of mosquito netting tucked in around the bed.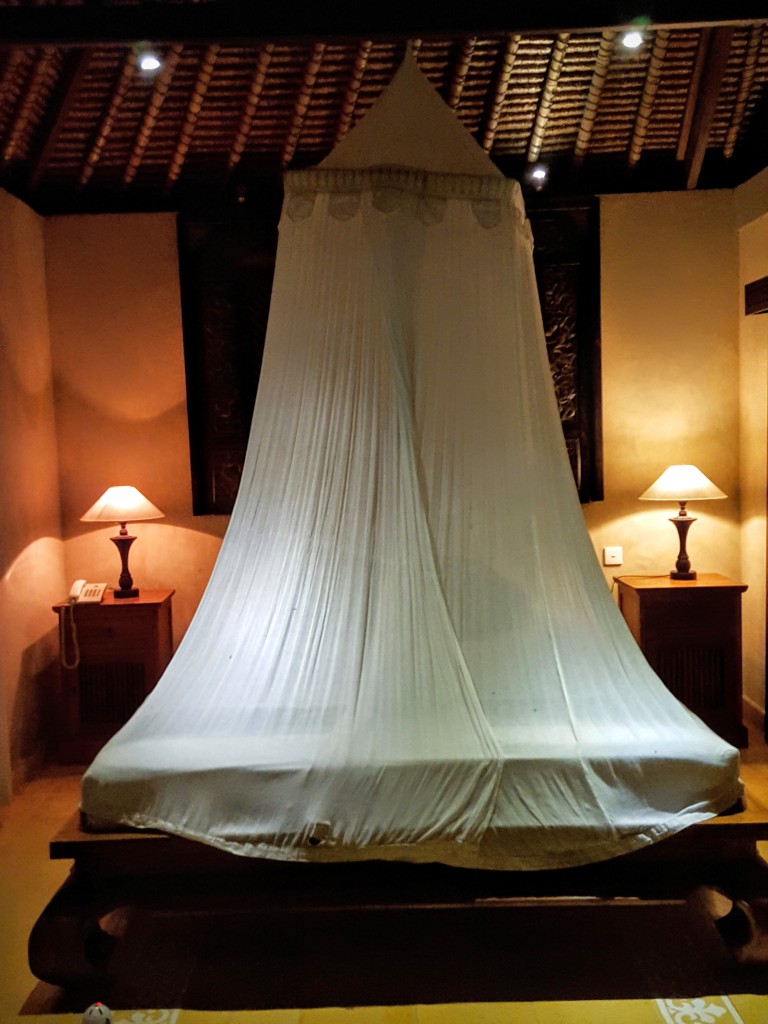 The adjacent indoor-outdoor bathroom was the stunner, covered floor to ceiling in a mosaic of pebbles, tile, stone gargoyle sculptures and a stone and pebble wall with a tree and lush plants growing around it.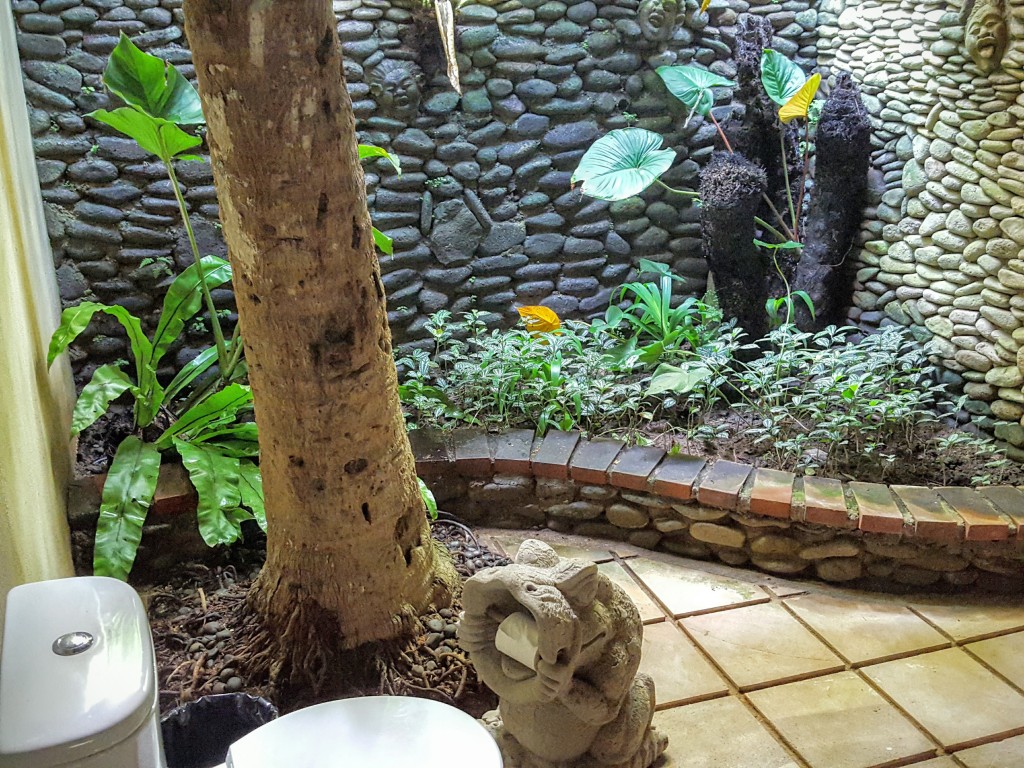 There was no time to change out of airplane clothes worn 2 ½ days or to freshen up for the welcome dinner party. Sixteen guests were already enjoying cocktails and hors d' oeuvres in the grand wood dining room awaiting my arrival before being seated for dinner.
Looking elegant in her signature designer clothing, Nadya greeted me warmly and introduced me to the other guests, fascinating expats and visitors from around the world.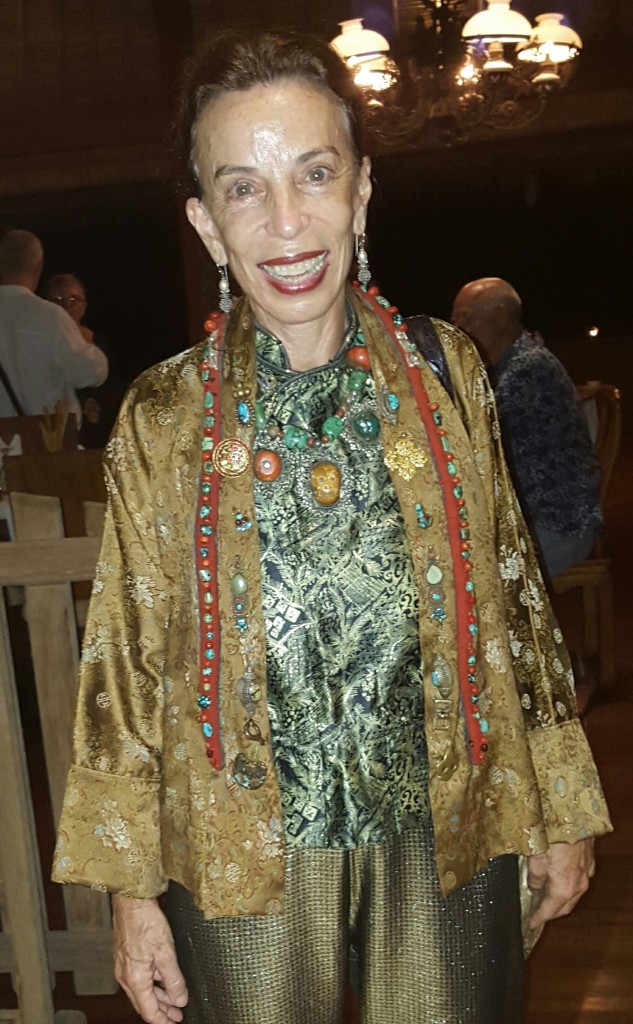 The table decor was artistically arranged with candelabras and flower petals from the property's gardens.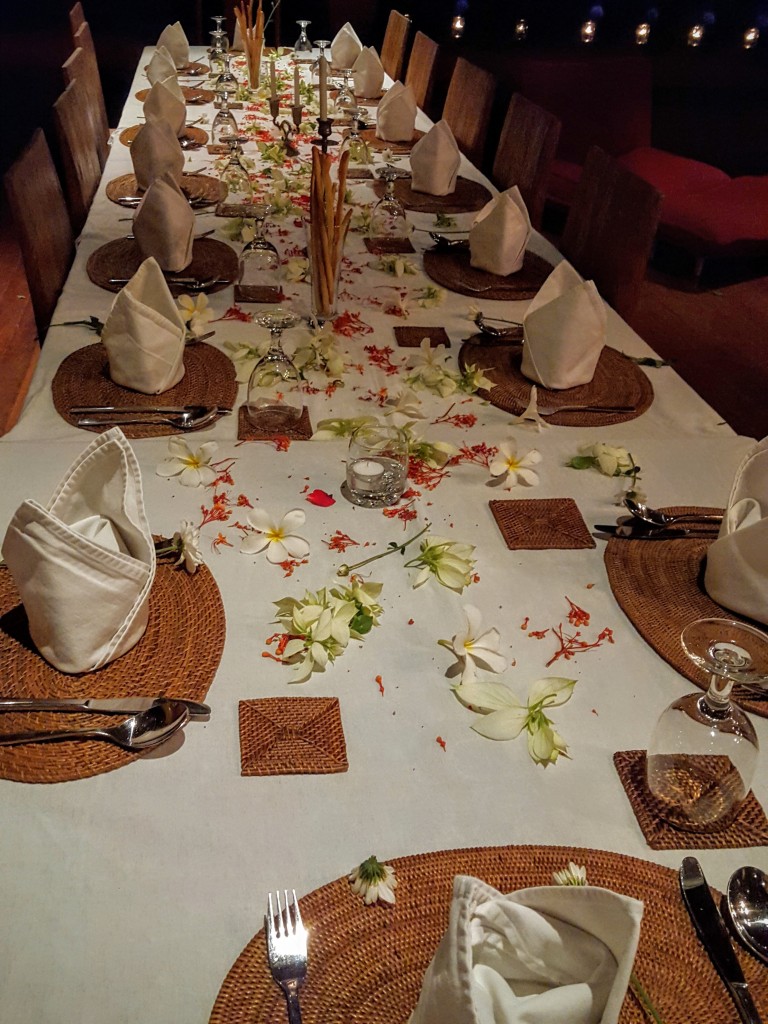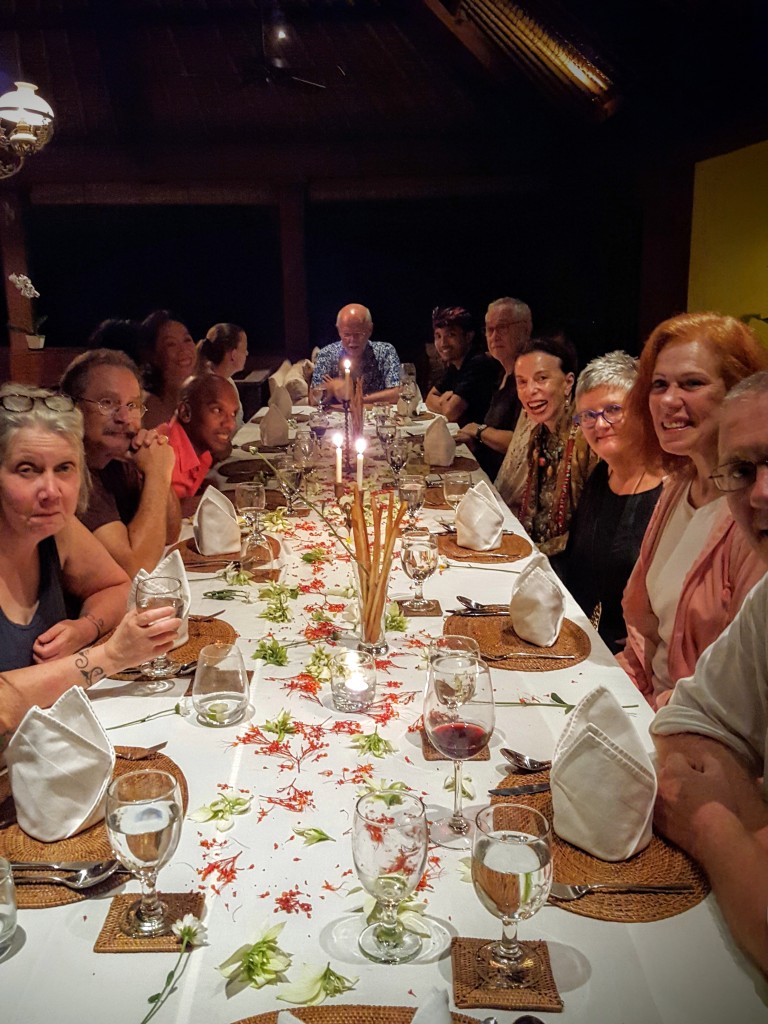 Pierre, a visiting French-Italian gourmet cook and designer prepared a sumptuous dinner! Instead of feeling exhausted, I was invigorated by the stimulating company, gorgeous setting and delicious courses served by staff. Aahh, for those grand dinner parties of yesteryear, and here it was set in a Balinese villa-retreat-hotel.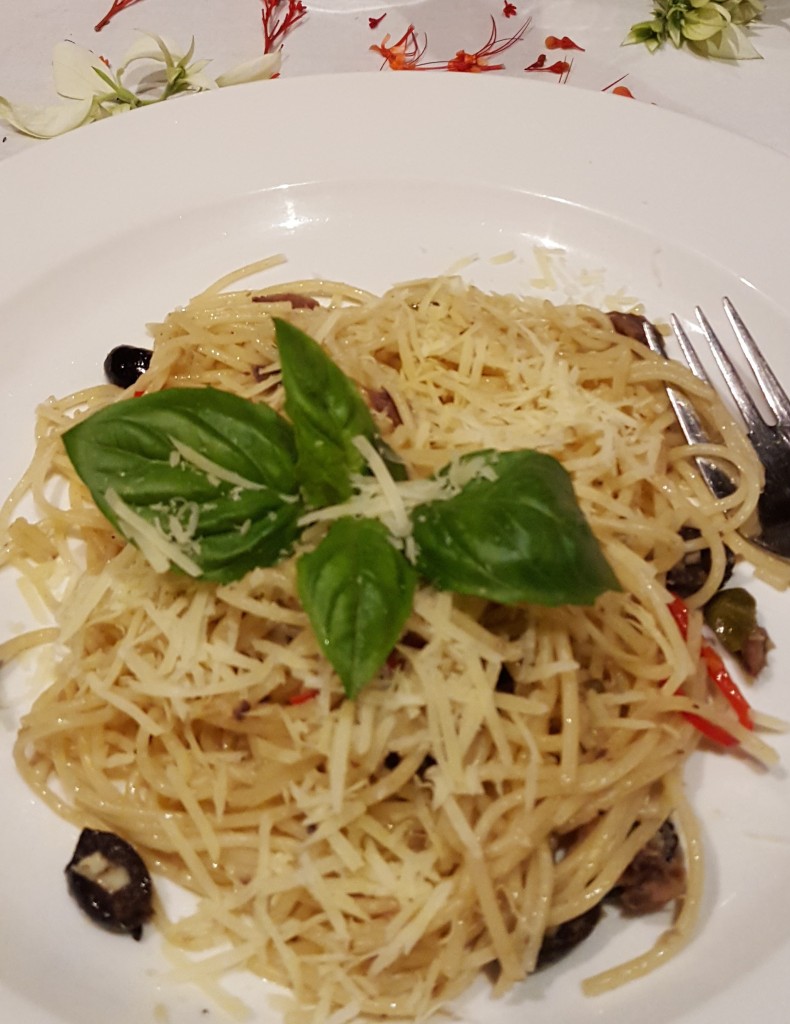 Among others receiving an official welcome at dinner was the guest of honor, American ex-pat Dr. Steve Wignall, owner-designer of the villa and an infectious disease doctor and philanthropist who had been consulting in other parts of Asia for the past month. I sat next to an Aussie ethical farming expert/ businessman, Jon Leonard, who found his mission training villages of Balinese farmers how to do economical ethical farming. He is also helping them create a tasty signature Balinese cheese to brand and sell.
I learned that Bali, the only Hindu island of Indonesia's 18,000 (922 inhabited), is a magnet for creative artists, humanitarians, business people and expatriates in transition seeking a fresh start. Entrenched in ancient Hindu, the Balinese are a sweet, soft spoken, welcoming, friendly, honest and very artistic people. Everyone seems to be a natural creative artist: designing/weaving batik clothing, wood sculpting, stone carving, making tooled leather accessories, colorful paintings, bead designs and beaded jewelry, lace blouses, woven fine fabrics, meal presentation, flower and offering arranging and much more.
Hindu deities are attracted to beauty, they say, so everything must be beautiful and artistic to attract the gods and give thanks for blessings in Bali. When the formerly Hindu Indonesia was Islamized, the artists fled to Bali, the only island allowed to remain Hindu, and thus where artistic self-expression could flourish. I experienced all this my first night in Ubud.
by Karen Lustgarten, Multi-Media Works
photos: © 2016 Karen Lustgarten