24 Oct

August Newsletter
Video Stat:
51% of marketing professionals worldwide name video as the type of content with the best ROI.
Social video generates 1200% more shares than text and still images combined. (source: WordStream)
VIDEO TIP: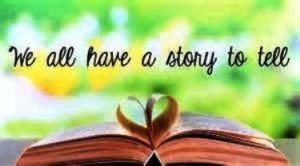 Good brand storytelling with video is the effective way to engage viewers and keep them watching a message to The End.  Whether it's a 30-second commercial or a longer video story, finding fresh angles on a familiar subject keeps viewers/prospects entertained while getting to know you and your product or service.
BUILDING WITH A STORY
Our assignment was to produce a video tour of the new Broward Addiction Recovery Center (BARC). As brand storytellers, we wanted to bring the building alive with meaning, too. One of the speeches at the grand opening ribbon cutting was personal and powerful, so we incorporated excerpts of it to tell a true story of the new facility's need and meaning to the community:

"It's awesome!"
Kimm Campbell, Director
Broward County Human Services Department
COLUMN

: 

BUSINESS BEAT

a monthly business round-up column by Karen Lustgarten covering Boca Raton and North Broward County for the Observer and BizBrazil magazine

August column:  REVITALIZING POMPANO BEACH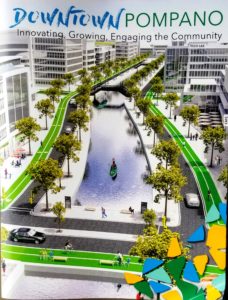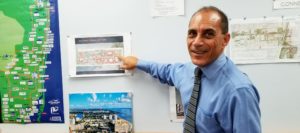 photo: Karen Lustgarten
Horacio Danovich sits in a conference room at the Pompano Beach City Hall surrounded by maps, master plans and diagrams pinned to the walls. The illustrations reveal the farsighted future of Pompano Beach. As manager of the city's capital improvement programs… MORE
NEWS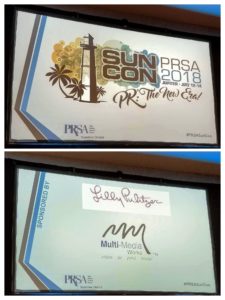 photo: Karen Lustgarten
SUNCON 2018 SPONSOR
Multi-Media Works was a proud sponsor last month of PRSA SunCon 2018, the Sunshine District Conference of the Public Relations Society of America (PRSA).  The two-day professional development conference and awards presentation for public relations practitioners was organized/hosted in Jupiter, FL by the Palm Beach Chapter of PRSA with the theme "PR: The New Era!" Superb programs and break-out sessions presented by 19 PR experts from various sectors highlighted the ever-changing profession. 
Among the topics:  effective messaging, crisis management (from the Palm Beach Zoo mauling to the Las Vegas mass shooting), internal/external social media trends, countering fake news, brand storytelling.  As a longtime evangelist of brand storytelling with video, the closing keynote address delivered by Miri Rodriguez, storyteller for Microsoft IT, hit home for our Multi-Media Works company: "Brand storytelling is the way to win Web traffic today."  Bingo!
INSTALLATION AND PRESENTATIONS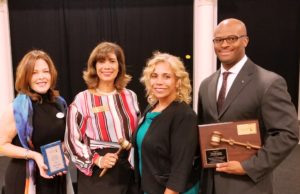 photo: Karen Lustgarten
Diane Singh, Monica Ribeiro, Cristina Costa-Agnone, Tim Hogans
Greater Pompano Beach Chamber of Commerce held its annual breakfast meeting and installation of the new board last month at Junior Achievement World. FPL's Tim Hogans, 2017-2018 board chair, passed the gavel to incoming 2018-19 Chair Monica Ribeiro, VP at BankUnited.
Among Leadership North Broward 2018 graduates receiving a recognition plaque was Diane Singh, Marketing Manager at Multi-Media Works. Kudos to Chamber VP Cristina Costa-Agnone for the successful event.
80% OF ALL INTERNET TRAFFIC IS VIDEO.
WANT TO WIN WEB TRAFFIC?
LET US TELL YOUR BRAND STORIES WITH VIDEO
Our Mission: to discover, brand and promote remarkable you (Yes you are!) in video, PR, print and social media.
We have won awards in all four media categories.
OUR TEAM HAS THE MEDIA IDEAS FOR YOU!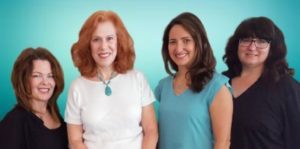 Diane, Karen, Alicia, Wendy
Trustee Member of: